Canvas - How to Find Canvas Course Number
This document outlines how to find the Canvas course number.
Every course in Canvas (even an unpublished course) has a course number to uniquely identify it. Conveniently, the Canvas course number forms a portion of the course's URL, and is therefore quickly identified via two different methods. You will need this number if you contact the Help Desk for assistance.
The Canvas course number is located at the end of the course URL
To locate your course's Canvas course number within the course URL (browser address), navigate to your course's homepage. For example, from your Canvas dashboard, click on a course name. On the course homepage, the course number will appear at the very end of the browser URL. In the example below, the Canvas course number is 71164.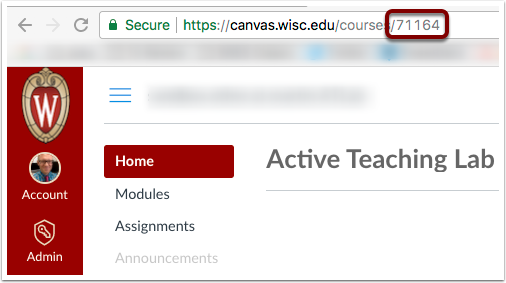 Hover over the course name to locate the course number
You can also locate a Canvas course number by hovering your cursor over a course name. This method works within the Courses pop-up menu (seen below), on the All Courses page, or on your Dashboard.
To find the Canvas course number with this method, hover over a clickable course name, and then look at the bottom-left portion of your browser window. You will notice the course URL, with the Canvas course number at the end. In the illustration below, the Canvas course number is 71164