During the submission process, you will receive requests to modify your protocol in the form of Reviewer Notes.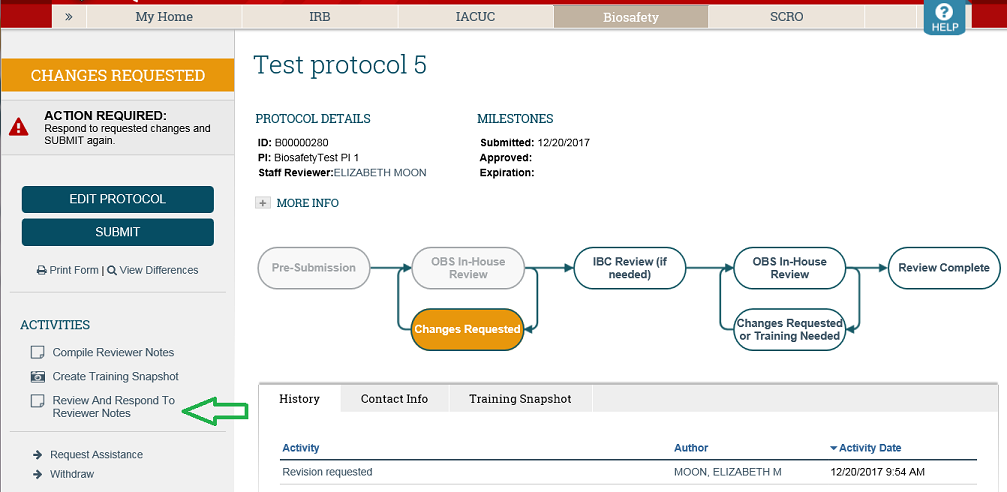 The Reviewer Note pane (shown below) is located at the top of each protocol page, just below the ARROW red banner. Any notes for that page will be shown in the pane and will direct you to make a change or answer a question on that particular page of the protocol, followed by "Response Required! Click here to respond..."
Once you have addressed the reviewer note's requested change in the protocol, you must also respond to each reviewer note by selecting "Click here to respond" (see green arrow below). This opens a window in which you can enter your response to the Note.
A response may be as simple as "Done" or "Completed" to indicate you made the requested change in the Note.
Once your response to that reviewer note is submitted, your response is saved in the Note.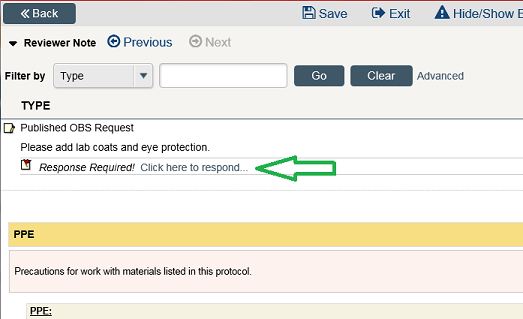 Move easily between Reviewer Notes on different protocol pages by using the Previous and Next arrows in the Reviewer Note pane. Not every page of your protocol will have a reviewer note. You can expand or collapse the Reviewer Note pane by using the arrow to the left of "Reviewer Note" in the pane.
Reviewer Notes do not need to be addressed in one session, you may Exit the protocol at any time and your responses to Reviewer Notes will be retained until you are able to resume.
When you have responded to all Reviewer Notes, Exit the protocol and select SUBMIT. This will send your protocol back to OBS with your responses.
Please be aware, the ARROW system will not allow you to submit your protocol back to OBS until you have responded to every Reviewer Note.
If you have difficulty with locating, navigating or responding to Reviewer Notes, please do not hesitate to contact your OBS reviewer directly or contact our office biosafety@fpm.wisc.edu 608-263-2037.
Still have questions? Call the Office of Biological Safety (OBS) at 608-263-2037. We are happy to help.