Webex Room Kit: Using Touch10
Using the Touch10 to make a call or start a Webex Meeting.
If you don't have a laptop, smart tablet or phone to connect to a Webex Meeting you can just use the Touch10 device in the room. This is a smart tablet that comes with the Cisco Webex Room Kit.
Cisco Webex Room Kit integrates with flat panel displays to bring more intelligence and usability to your small to medium size meeting rooms (6-8 people). These "room kits" can display wirelessly what is on your laptop (or other device) in rooms equipped with Cisco Webex Room Kits. When joining/starting a Webex Meeting or Webex Teams the Room Kits also allow you to display the meeting room and it's participants on the video.

Touch10 device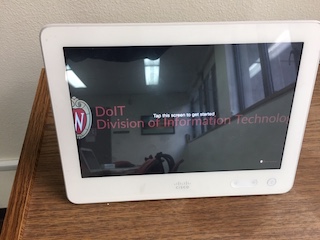 You can start a call, with one person -CALL or join a Webex Meeting. These directions will describe joining a Webex Meeting.

1. Click Join Webex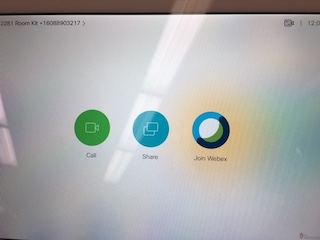 2. Enter the meeting room number (you will find this on the Webex Meeting invitation or if in a Webex Meeting under Meeting-information).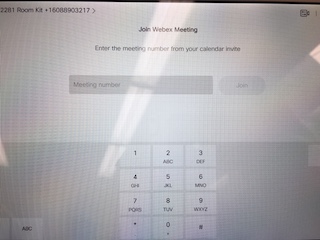 3. After typing in meeting room number it will ask if you are the host for the meeting.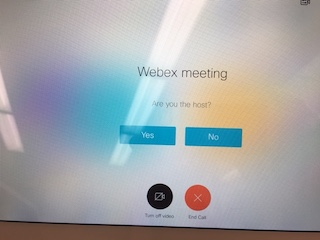 4. If you are you will need your host PIN number that is found in the meeting invite. Go to your calendar and open the meeting invite. Click on HOST INFORMATION. Your host pin for the meeting is displayed. Type this on the Touch10.

You are in the Webex Meeting.